Shoots, this last weekend was a blast.
It started with an invitation that I wasn't even sure was meant to be a real invite, well, turns out it was more than sincere. My in-laws long time friends(the Brown's) live over in Vero Beach, Florida, they know my wife Tatum pretty well and know that I am crazy about surf. The invitation was to get away and enjoy a relaxing weekend on the east coast. To say the least I jumped on it! I didn't even think twice about it... it's time to see some waves and get my feet sandy. We took off.
It's fun not knowing where you are going or what its going to be like when you get there.. I love adventures. But these days adventures seem to be a little more tricky than what they used to be. Once upon a time I packed my car with everything I owned and was gone, now I pack my car full of my 4 month old daughters things and then attempt to fit my own gear. Times have changed, so the adventure has also changed. I wasn't sure what it would be like going to the Brown's home with River Lee and Tatum, turns out, not a problem at all. We were greeted with tons of love and an open house.
I started my mornings off with some super fun shore break in the cold weather. 34 degrees and soaking wet... buuurrrr.... Very worth it!
To add to the excitement we were able to meet up with our good friends Blake and Chelsea. We spent the day in Sebastian soaking up the sun and enjoying the surf.
The surf was pretty tiny, but fun! Blake did what he could and I stuck my head in a few barrels.. perfect day.
The sun came out and made it a fantastic day for the beach. River thought so... Of course she had a photo shoot, to darn cute to not.
These Photos by Chelsea Erwin. A huge Thanks to Blake & Chelsea for cruising up the coast to hang out with us! Love you guys.
Click here to see Chelsea's take on the day....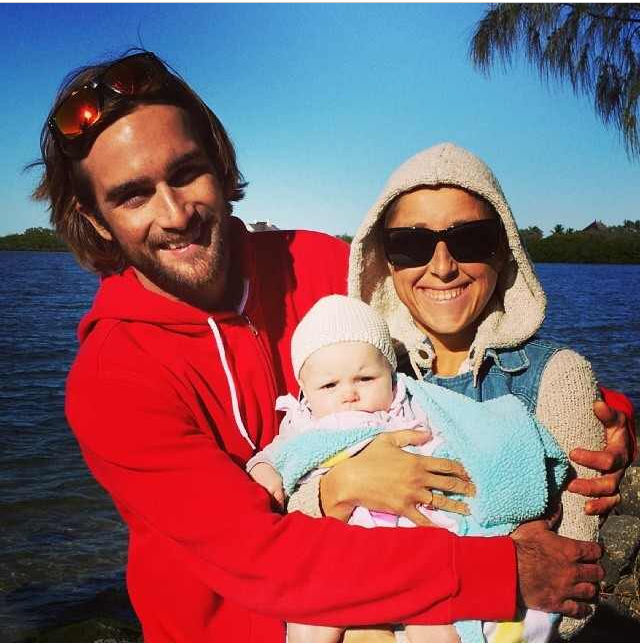 Yup, even after all that I still found some time to enjoy a Moon rise over the Ocean. I've never seen a full moon rise like this before.. I guess the East Coast does have some perks! It was AweMazing! I shot it all with a wide angle.. I apologize for that, because it was better than what my photos show.
...and that is that... one weekend in the books.
Thanks so much to Buddy & Gail Brown for opening your home to my family. We hope to see you again soon.
Mahalo,
-Nathaniel Harrington